The Garage School
The Garage School, a project of Safi Benevolent Trust, is a non-profit organization looking after the educational needs of the people of Shah Rasool and Neelum Colonies. Through education, TGS aims to uplift the community and transform the lives of these people.
The Garage School operates in three shifts. The morning shift caters to mainstream or regular students who are given formal education in all subjects, from Pre- nursery to 10th grade, preparing them to sit for Aga Khan or Sindh board exam. This program not only caters to their academic development but also social development. Extensive training is given to students regarding grooming, hygiene and social interactions.
English is used as a primary language of instruction in this program. The school curriculum is designed with the help of top tier educationists in a way that it promotes critical thinking in a child with a hands-on approach. Projects, field trips and exposure outside the text book enable TGS to instill confidence and help with the mental growth of a child.
Ekta has supported the efforts of founder Shabina Mustufa for several years and lauds the good work she is doing.  Shabina believes in a holistic approach to education. The students of TGS students are given free meals every day, ration for their families and comprehensive health care including surgery.
"My eventual mission is to create a complete community center including school, vocational training, health care, daycare for working mothers and anything a community needs to be self-sufficient" – Shabina Mustafa
Every Ramzan there is a ration drive including gifts and new clothes for all students. The school also has adult literacy and vocational training programs for the locals and serves as a community center for the area.
For Shabina Mustafa education is the most essential pre-requisite for our country's development and her five finger formula of schooling for poverty alleviation and growth, Taur (Training), Tareeqa (Approach), Tarbiat (Grooming), Taleem (Education) and Tarraqi (Progress) further emphasizes her mission.
"My basic aim is not just to give them education but to make sure they stand on their feet. I want to groom my students into becoming successful; more importantly, I want them to become responsible and constructive human beings." – Shabina Mustafa
London School Project
The London school project was spearheaded by the Lions Club of Enfield and Ekta. We joined together to give a financial helping hand to fund specialist equipment and learning opportunities for children and young people with Special Educational Needs and Disability at Swiss Cottage School.
Swiss Cottage School
The Swiss Cottage School, Development and Research Centre is a maintained special school with a complex needs designation. Their learners are aged 2-19 and are identified with a range of layered needs. This can include Profound and Multiple Learning Difficulties, Severe Learning Difficulties, Moderate Learning Difficulties, Autistic Spectrum Conditions, Communication Disorders, and Social-Emotional Mental Health Needs.  The school focuses on personalised learning to meet the holistic needs of the class group. As a school community, They are committed to providing a vibrant and fulfilling offer to their learners.
"Our curriculum at Swiss Cottage is skill and context-based and encourages active engagement in learning. The curriculum focuses on developing the key skills of communication, cognition, independence, physical development and self-care, all transferrable skills that equip children and young people for life beyond the school. Our curriculum strives to be responsive to each learner, and build on individual strengths and interests. A rolling plan is in place, which supports a balance of stimulating contexts for learning through different learning experiences, themes and subjects."
The Zahra Trust
Just after the Rohingya plight took place in 2017, a Zahra Trust UK delegation, led by Mubina Hassan, immediately set out an emergency response trip to Myanmar. After going through a number of military checkpoints and hostile Buddhist villages, ZT arrived to Sittwe camps in Rakhine State. Over 145,000 people cramped into 20 camps living in a squalid condition wrenched the delegates' hearts. All basic human rights and necessities were ignored. Internally displaced Rohingyas living in 20 camps and 54 villages were confined in the area, denied their right to citizenship, access to education, health and livelihood opportunities that a normal Burmese would enjoy. The delegation immediately distributed emergency food packages to reduce the hunger of over a thousand people. After assessing the area and discussing it with local communities, ZT has determined to help by providing overall education support for the children. Before leaving the country, the delegation strategically set up a local organization through trusted partners in Myanmar with the intention to implement long-term sustainable education projects.
Fully equipped temporary learning school for 326 confined Rohingya children including a playground, teaching-learning materials, sanitation station, teachers' training, school uniforms and textbooks have been provided from funds disbursed by Ekta. Delighted Rohingya children having something to smile about after attending their first day at their new school built by The Zahra Trust.
Learning For Life
Learning for Life has had an incredible journey since it began in 1994. The initial idea, developed by Charlotte Bannister-Parker and Sophia Swire, was to help develop girls' education in India and Pakistan. Nineteen years on, we have expanded our vision and commitment, working with street and working children, as well as impoverished communities across South Asia, in Afghanistan, India, Pakistan, Bangladesh, and Nepal.
Ekta in collaboration with Learning for Life – Small Floating Schools, Bangladesh
During the rainy season flooding forces villages in Kishoreganj, Bangladesh, onto tiny islands cut off by 40 feet of water, leaving over 90% of children without access to education. Learning for Life has established Floating Schools to address the lack of services for these communities.
Our innovative Floating Schools travel from village to village and conduct lessons for children who otherwise would not be able to attend school.
In each Floating School children (aged 6-11) attend lessons every morning and adolescent girls attend an accredited program on life skills development, rights and income generation in the afternoons.
ACELP Institute of Child Development
Mission:
Provide diagnostics, academic and vocational training to children with developmental delays and physically challenged children.
Help bring special children into the mainstream of the society.
The aim of education is to enable each child for the independence of function and competence in interaction and adjustment in his environment (immediate family, and society). With individualized program, we aim to enable each child to achieve according to his best abilities.
Detailed psychological evaluations are carried out for all new admissions. Consultation is provided by our psychologists for academic, behavioral, and emotional problems, to children attending normal schools, as well as to children with developmental delays and learning deficits. Assistance in specific problems is provided by the specialists.
We aim to develop each child's capabilities through our programs for Education, Communication, Self-help, Gross and Fine Motor function, Sports, Music, Vocational related activities, Social awareness and interaction.
ACELP guides parents to take care of the special needs of children and create awareness and acceptance in the community.
Ekta raised funds for supporting this institution and aided with the education of children with special needs.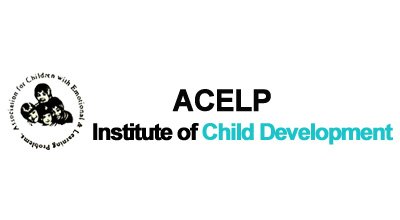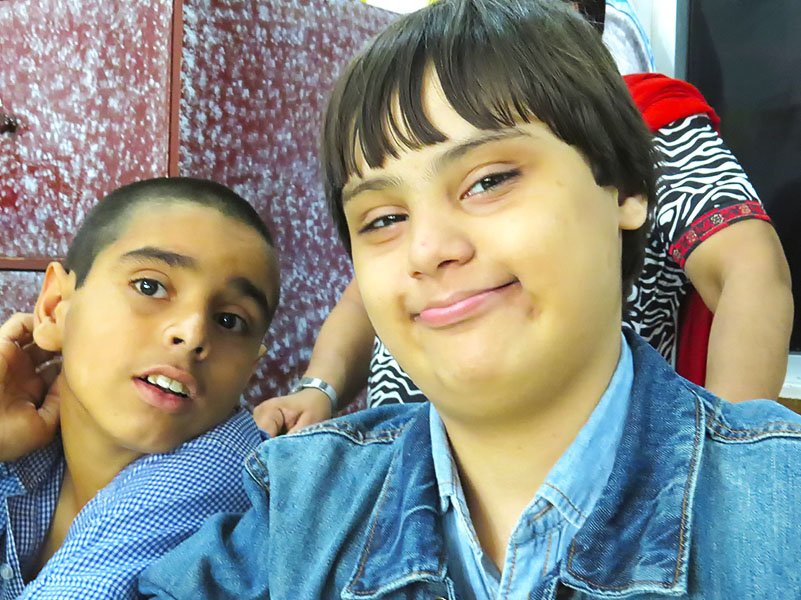 Help Hyderabad
Help Hyderabad is a non-profit, non-governmental organization engaged in community development work since January 2000. We are providing training in SAP Computers, Spoken English & personality development, Teachers' Training in Deeniyat & Pre-Primary curriculum (totally charitable & totally Free of Charge) at its Training Centre located in Haj House
The all-encompassing Spoken English Course includes Personality Development, Interview facing & Confidence Building. Spoken English is again a very popular course, Completed 15 Batches of English,12 Batches of Computer Training, 3 Batches of Teacher Training, 1 Batch of Deeniyat Training Guest Trainer NRI's & Local are a great boon to the students. Registration for future batches has already started and Mrs. Sabah Qadri, the moving spirit behind Help Hyderabad has assured us that Insha Allah the Free Programmes will continue.
Before the Haj House comes alive with its routine, Help Hyderabad Training Centre @502 starts buzzing with activity; especially the girls and their parents find the atmosphere of Haj House to be conducive, central, safe and secure for them to start early in the morning and stay till late in the evening. However, we have to vacate the Premises for Haj Camp 2015. We hope to be back here after the Haj Camp is over. We shall temporarily shift the training during the interregnum to Mehdipatnum.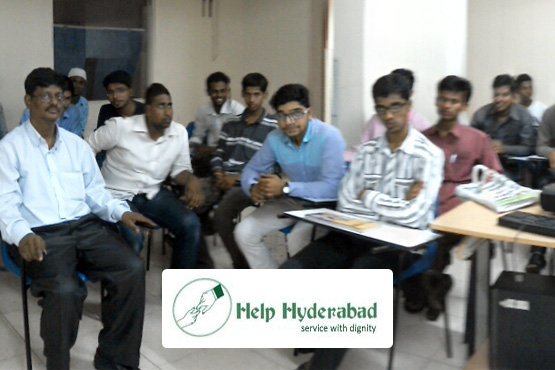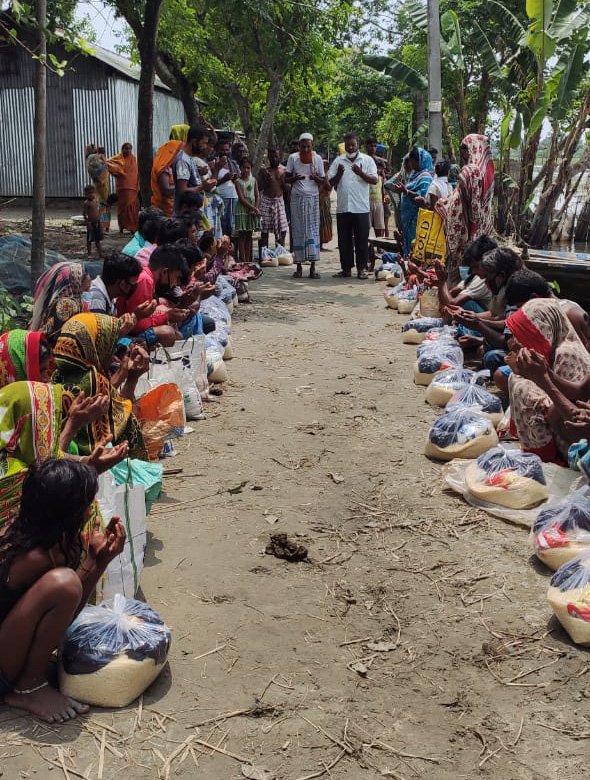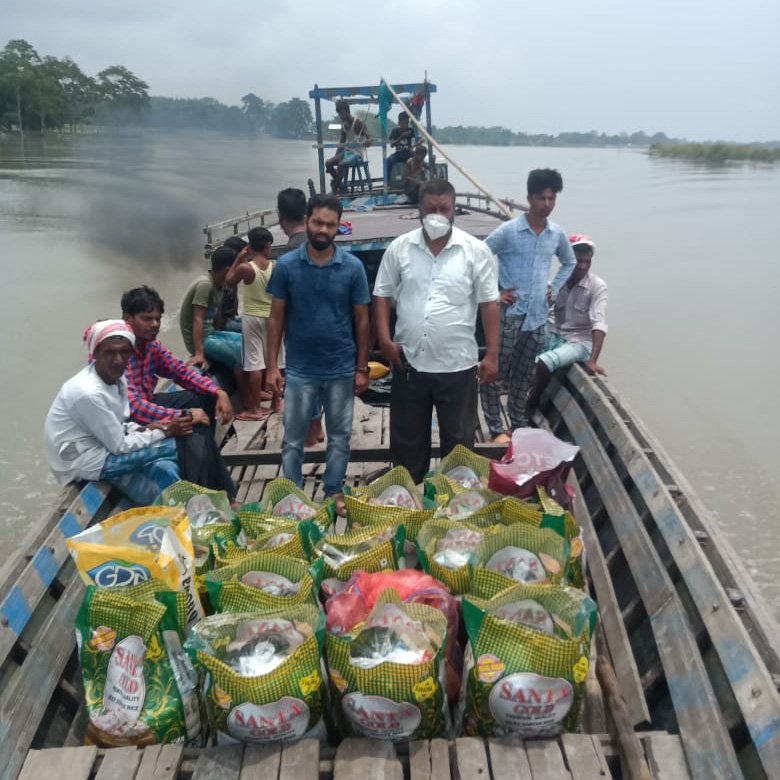 E-Learning
Ekta have been directly involved in providing E-Learning Units in Zilla Parishad schools in villages in India with the assistance of the Wockhardt Foundation.
What is E-Learning?
The E-learning program is intended to make learning a fun-filled and interactive experience. The program is developed by quality e-learning experts and qualified instructional designers. The program is designed for students from Standard 1st to 10th. The curriculum is as prescribed and followed by the State Board. The complete syllabus is made into an audio-visual format in regional Languages. The Audiovisual format comprises an interactive question bank and is designed with a child-friendly interface.
Wockhardt Foundation has implemented E-Learning in 669 funded schools in villages & cities of Maharashtra, Gujarat, Nagaland, Rajasthan, Himachal Pradesh and Haryana with a resultant marked increase in school academic performance at all ages.
The average SSC result performance in the year 2015-2016 was 86%, which increased in the year 2016-2017 by 6%, that is, the average result was 91% followed by the result in 2017-2018 which was 95.17%
Also, with an increase in the average daily attendance by 15%, there has been a noticeably marked decrease in school dropouts.
Ekta partnered with Wockhardt to install and monitor E-Learning units in village schools in Aurangabad.
Zab Bags
We raised funds for and provided Zab Bags through Wockhardt.
ZAB is an intelligently designed school bag, helps children carry their books, belonging, irrespective of the weather conditions. The same bag with no mechanics transforms into a school desk. The desk offers an appropriate angle for students to write and read, thus ensuring to maintain an ergonomic posture while studying
Sufra
Sufra NW London works on the front-line in the fight against hunger and poverty whilst also offering a wide range of services and community-based activities that empower individuals and families to overcome impoverishment and social isolation.
"Here in the UK, communities have rallied together like never before to support those in need of food and other essentials. Whilst we seem to be over the first deadly bout of Covid-19, we are bracing ourselves for a second wave in the months ahead. But it's the economic crisis that worries us most – soaring unemployment will mean more than a million more Britons living in poverty by Christmas. Sufra, alongside others, will continue to do what we can to support those in need, but we can't do it without your help."  This is Sufra's message to all of us.
In April 2019, Ekta reached out with a donation to assist in this effort.
Karachi Relief Trust
Karachi Relief Trust is a Disaster Management Voluntary Organization originally established to provide relief to the people afflicted in the provinces of Balochistan and Sindh.
Their efforts continue to assist the victims of natural disasters and our cause remains to support them in their hour of need.
Karachi Relief Trust (KRT) in collaboration with The Indus Hospital (TIH), developed a purpose-built modular COVID-19 High Dependency Unit (HDU), which is nearing completion at TIH main campus in Korangi. The purpose of this unit is to provide access to free and safe care to the people seeking in-patient services for COVID-19. This state-of-the-art unit comprises 46 High Dependency Beds. Besides quality and safety, the "empathetic approach" is followed in its design enabling families to have visual access to see their loved ones on periodic schedules. Ekta disbursed funds from the UK to help in their goal to address the need of Covid affected patients.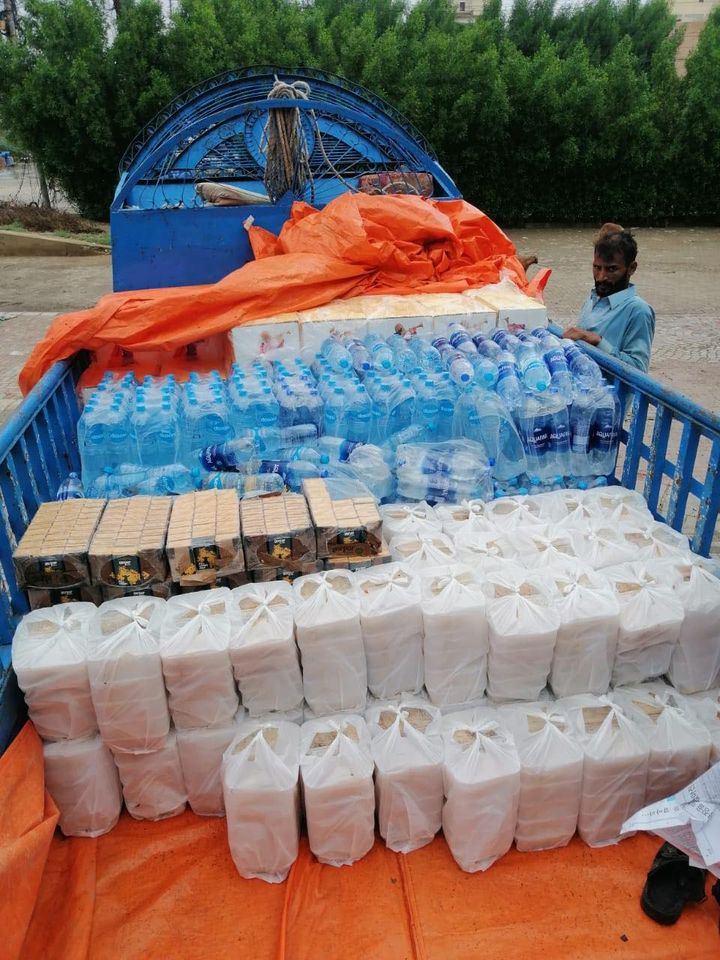 Alimaan
Alimaan Charitable Trust came into existence in 1987 and in order to streamline the activities of the institution, education promotion trust, orphan welfare trust, water aid foundation were established. Presently they are under the patronage of His Eminence Syed Ali Al Husseini As-Sistani operating from Mumbai reaching out all over India.
As voiced by them in a message to all –  "Over the years our activities have spanned the length & breath of the country, reaching the remotest of villages & being there whenever nature struck. Be it earthquake victim housing in kutch, education & urban housing in mumbai or widow rehabilitation in south india. Imaan Foundation & Alimaan Charitable Trust have strived to reach out. All this being carried out free & without the presence of a corpus to cover administration expenses.
It is because of the prayers, faith, trust & benevolence of our donors that we have been able to do what we do & achieve whatever we have. It is their dedication that gives us the strength not to give up & the power to give hope when so many give up.
With your prayers & blessings we will inshallah continue to strive to make the world a better place & each day we rededicate ourselves to the service of humanity."
Ekta contributed during this pandemic to help with urgently needed funds.
Migrants Organise
Migrants Organise is an award-winning, grassroots platform where migrants, refugees connect, build common ground, organise for dignity and justice for all.
Zrinka Bralo is the CEO of Migrants Organise providing a self-help organising platform for migrants and refugees acting for justice.  Zrinka herself is a refugee from Sarajevo, where she worked with leading war correspondents as a journalist during the siege in the 1990's   Her vision is of an inclusive, fair and equal society which accepts that migration is a fact of life and it should be organised.
Zrinka Says "At Migrants Organise, we share our organising knowledge with those who believe in justice, dignity, equality and inclusion of all migrants and refugees.  We have trained more than 200 organisers in 27 local areas. Check out how we build common ground and grow our power and invite us to do it together.  People seeking protection are stuck in a dysfunctional system that has made them destitute, isolated, depressed and stripped them of their skills as they are not allowed to work or access education. Indefinite immigration is routinely used without proper judicial oversight. We believe migrant communities should have a stronger place at the negotiating table to create positive change."
An important part of Migrants Organise holistic approach to working with migrants and refugees is the provision of weekly classes and activities that provide a much-needed space for their members to socialise, escape stress, gain new skills and make connections. English classes are one important example of this. Since the global pandemic of Covid19 teaching is entirely online with four classes per week for different ability levels, including beginners and conversational English, delivered by skilled and experienced volunteer teachers. Meeting remotely in small groups has in no way diminished the sense of community and solidarity that the classes offer, and they continue to offer a source of friendship, kindness and encouragement to migrants and refugees who are otherwise denied basic dignity and justice.
Aseema
Aseema wants to take the lessons learnt over the last decade in the metropole Bombay to the nearby tribal areas, four hours away. Especially since 75% of India lives in the villages and unfortunately, the rural areas remain backward and ignored, forgotten by urban India as is surges forward into the next century. At this fourteen-acre plot educational and vocational training will be provided to achieve independence for the child and the community. Our donation is being used for running expenses of this very centre.
Beti, Lucknow, India
An NGO that is run with great dedication by its founder Sehba Hussain
"Project Kamyab" was started in Hamirapur village on the outskirts of Lucknow, with funds donated by EKTA. This project has transformed the lives of hundreds of children from poor families living in this remote and backward hamlet by providing them free education through 6 Alternative Learning Centre. Many have appeared in the examination under Open Basic Education (OBE) of National Institute of Open Schooling (N.I.O.S) and several have qualified to join mainstream schools for higher education. Girls aged 15 -21 years are taught livelihood earning skills at the 6 Vocational Training Centers also established with Ekta's help.
The Royal Educational Society, Maharashtra, India
Dr Undre School and Junior College provides education to boys and girls up to Std XII. Founded with just 26 students and 2 teachers, today it has over 300 students. Girls are encouraged to pursue higher education and are given due assistance.
Ekta has helped Dr. Undre in a project that rescued, educated, and rehabilitated many children who were the victims of the communal riots in Gujrat.
Anjuman – e – Khawateen, Hyderabad, India
Founded by Tayeba Begum and supported by her family members, this primary school is situated an area where it is hard to keep children off the streets. By offering free education and a mid-day meal, over 200 children from extremely poor families have now got the opportunity to brighter future. Although the medium of instruction is Urdu, Telugu, the regional language is also taught. Ekta helped improve the facilities available in the classrooms and paid salaries for Teachers who would teach these children basic English.
Safrani Memorial School, Hyderabad, India
Started by Suraiyamma, who has been involved with the preservation and revival of the dying handloom weaving industry of South India, this school was primarily set up for the children of poor weavers. Today, it provides quality education to many children from poor families in the outskirts of hyderabad. With funds donated by Ekta, the school was able to set up a computer and IT lab.
The River Project, India.
A collaboration of the Rishi Valley Foundation with schools located in remote villages, this project mainly concentrates its efforts on providing teachers with the right kind of training needed to teach children who are from rural areas. The programs now reach 61,000 schools, 280,000 teachers and 7.9 million children.
National Girls High School, Bandra – East, Mumbai, India.
Situated in Behramnagar, an economically backward suburb of Mumbai, The National Girls High School has over 2000 students on its rolls. Ekta has helped ease the financial burden of the school.
Muslim Welfare Trust, Dhule, Maharashtra, India.
Started in two rooms situated in the fish market, today the school has its own building laboratories, science equipment and sufficient teaching staff. The students, mostly from extremely poor families, have shown commendable result in the Board examinations.
Funds from Ekta have provided the benches, chair, blackboards and other essentials for classrooms.
Al – Noor Society, Aligarh, India
The perseverance of Salma Ansari has resulted in the Quila public School situated in the Aligarh Fort. This is the only school in Aligarh with free education to all irrespective of caste, creed, or religion. It provides a scholarship of 300 rupees per child for one year which includes uniforms, books and stationery as well as trained teachers and nutritious meals. Ekta supports this tremendous initiative.
The HUNAR Foundation. Technical Institutes
A vocational guidance project par excellence devised by socially minded, prominent citizens of Karachi in collaboration with UK City and Guilds. Carefully selected high school boys are put through a rigorous 12-month training programme followed by a 6-month apprenticeship to produce highly competent, skilled workers eagerly sought out by industries in Pakistan and the Middle East.
Hunar's motto: 'To get the Youth off the streets and turn them into bread-winners for life.'
EKTA is supporting 7 boys currently and will support 7 more in the next batch. Ekta will hope to support a Girl's Campus in Karachi when it starts up.
Foundation to Educate Girls Globally (EGG), Pali District, Rajasthan
"Reforming Government Schools for Girls Education."
Across India girls are not always educated and many have minimal understandings of their own rights. Estimates show that for every 100 girls in rural India, only 1 reaches class 12.
Educated girls have the unique ability to bring unprecedented social and economic changes to their families and communities: reducing birth-rates and child mortality, improving family health, reducing political extremism and violence against women and increasing both family and national income. Additionally, educating girls accelerates overall literacy: mothers with a primary school education are five times more likely to send their children to school.
Hundreds of organizations in India work in the area of girl's education, but few are as cost effective and scalable as FEGG. FEGG is determined to influence behavioural change in communities and policy change with government and in five years, provide 5 million girls with a quality education and leadership training.
A special project covering 14 schools and reaching out to 1500 children was launched in October 2012, especially at EKTA's request in one of the most backward and un-educated areas of Rajasthan.
Magic Breakfast UK
Magic Breakfast is a registered charity in the UK ensuring that no child is too hungry to learn through the provision of healthy breakfast food and expert support to schools. A hungry child cannot concentrate so will miss out on half a day of lessons, every day, if not given anything to eat. They support schools with 35% or more pupils eligible for free school meals, or with 50% Ever 6 FSM, delivering nutritious food and bespoke advice on the optimum way to reach every malnourished and vulnerable child. All this for 22p per child per day. Working with 480 Primary, Secondary and Special Educational Needs schools, plus Pupil Referral Units, to make sure that over 23,500 children start their school day in the best possible way. Ekta sent a one-off donation to this well sustained charity which is supported by the large supermarkets and corporations like Kellogg's.
Pearl Education Foundation. UK
Margins to Mainstream
The Pearl Education Foundation pilot project started in 2006 to enable British Muslim women to develop their leadership qualities, talents, skills and knowledge to achieve better economic integration. Thousands of women and families from ethnic minority backgrounds have been liberated from illiteracy and isolation. They teach English reading and writing and computer skills plus simple life skills. Committed students go on to learn business and enterprise skills. Originally developed to empower Muslim women, they now teach men and women from many backgrounds. Students are able to use these skills to understand and support their children's schooling, earn an independent income and assist in the integration of their families into British society. The original plan was to deliver the project with just 12 volunteers. The project attracted nearly 300 volunteers in the first year, from the Muslim communities living in Britain. That enabled them to reach many more women and their families. Women, particularly those belonging to the newcomer category, or who have not had a chance of learning English, tend to experience multiple disadvantages through a combination of factors: lack of fluency in English, high level of illiteracy, financial dependency. Even so, given the opportunity and encouragement, even the most marginalised of Muslim women can develop the confidence and skills to undertake further education or become economically active.
Astha Kiran- Nai Roshani School.
Moved by seeing the pathetic condition of homeless children at Lucknow Railway platform, begging, sweeping floors in trains, selling water in used bottles, rag-picking, Ms. Sonia Singh decided to do something for them. She strongly felt that education was the only way to save them from falling prey to exploitation, violence, stunted growth and psychological scarring and also to bring them in the mainstream for living with dignity. Thus, an informal school for these children was started by Ms. Singh on the platform of Charbag Railway station of Lucknow.
Encouraged by the enthusiasm and willingness amongst the children and the improvement the little education brought in their living, Ms. Sonia Singh decided to extend her endeavour to provide free education to orphans and slum children, who were deprived of any sort of education, in other areas in the city. This modest beginning gave birth to "ASTHA KIRAN SHAIKSHIK EVAM SAMAJIK VIKAS SANSTHAN", an organisation which not only believes that the underprivileged children have right to dream but also help them in realizing those dreams by providing suitable education and training.
Now they are also running a formal school, namely "Nai Roshani" at Dubagga, Lucknow where the underprivileged girls of poor families are provided totally free education which does not put any financial burden on the families, the main reason for depriving the girl child of education in those families. Ekta supported this effort by donating a school bus to bring children to school from distances too far for them to come walking.